<! main photo >

MUSIC
Andy Wickett holds the reputation for being one of the finest performers and songwriters in the Midlands.
See his mesmerising live acoustic set or catch him playing with his band World Service.
Know for writing the World wide hit songs: Girls on Film and Rio when he sang with Duran Duran. He started his career in the 80s singing and playing in TV Eye, Duran Duran, The Xpertz and World Service.
He has played large arenas and venues around the world. Andy has also produced videos and co-written albums with world renowned Asian artists Nusrat Ali fateh Khan, Malkit Singh, Stereo Nation, Taz and DCS.
Andy also produces his own brand of electronic music.
Sometimes blending musical genres with his acoustic songs.
Support act to: The Clash, U2, Culture Club, Burning Spear, Orange juice and UK tours with Duran Duran and Gregory Isaacs.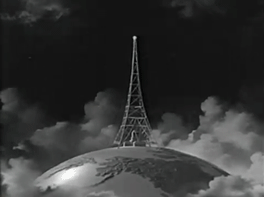 SEE MORE WORLD SERVICE (2018)
World Service (1984/2018) Across the Sahara
World Service began when I was asked to record with a band.
The session tookplace at the BBC Pebble Mill studios in Birmingham. There have been many lineup changes over the years.
In 1990 the band crossed the Sahara to tour Algeria.
In 1996 another line up supported the Durans on their UK tour.

Vocals, Guitar, harmonica: Andy Wickett.
Bass: Roger Cornforth, Nick, Nils Hagstrom, Clive Parry.
Drums: Bill Coleman, Trevor Cornforth, Daniel, Ant, Neil Harris, John Cummins, Jamie Little, Gilly Greiner.
Guitar: Ritchie, Steve Harper, Andy Bucknall.
Keyboards & backing vocals: Gerry, Shirley, Doro, Bingo.
Sax: Mark Overton.
Skala (1996) Ska in the Jungle
Saxa is a legend. Not many people are aware that apart from playing the sax, He also plays the pipe or bamboo flute as it is also known, and drums. He has also been known to sing and create his own lyrics, as can be discovered on Dan Arsenic - a track to be heard on the 'Skambient' album.

Skala produced an album with Saxa from 'The Beat'. Mixing Ska and dub + live recordings of Saxa's band to produce a rich musical journey with their album 'Skambient'.

Louis Campbell Poet and singer Louis Campbell has played in 'The International Beat', and 'Dub Rokkaz'. He is now performing with Citizen X.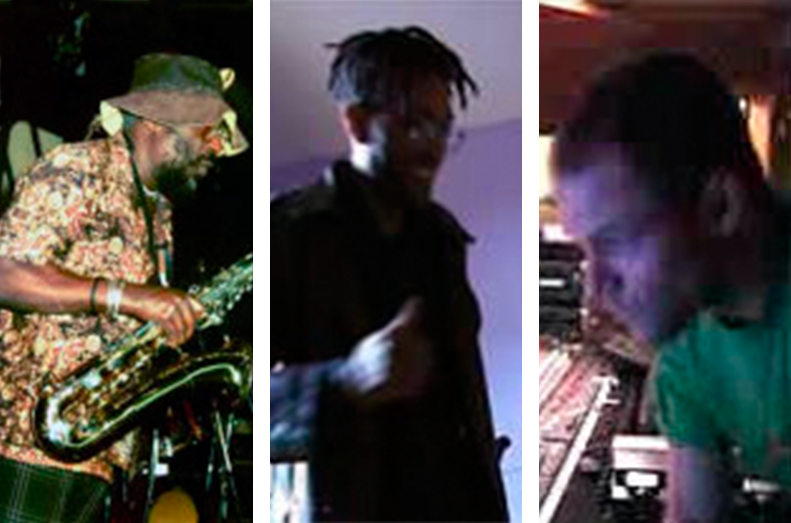 Xpertz (1982) Into the Dubzone
The Xpertz built up a large following in the early eighties and were among the first bands to merge electronica and dub.
They played many high profile gigs supported:The Clash, U2, Burning Spear, Culture Club, orange juice and Gregory Issacs on his British tour.

Vocals, Keyboard, Harmonica, Percussion: Andy Wickett.
Bass: Aleem Panwar.
Guitar: Paul Horton.
Percussion, Vocals: Ron Cook.
Drums: Randolph Jordan.
Management, Photography, Lighting, Sound: Leroy Jones Hemmings.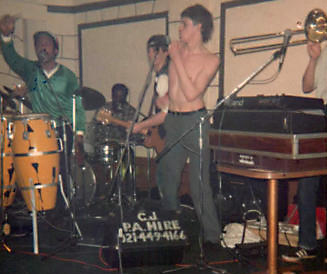 Duran Duran (1979) Guys on Film
Andy rehearsed with the Durans and Vision Collision in his room at Cheapside while Steven Duffy's band 'The Hawks' rehearsed downstairs in the veranda. Andy worked the Night shift at Cadburys Bournville where he would read books and write songs to kill time.
One night he wrote the melody to 'Girls on Film'. He found a lyric in his book: "Girls in film they look better, girls in film always smile". Andy told Nick Rhodes to introduce the song by playing the melody on his string machine and the song was born.

They recorded the song along with: See me repeat me, Reincarnation, and Working the Steel as part of their first demo at Bob Lamb's studio in Moseley. Nick's dad took Nick and Nigel to see the London record companies. Andy phoned Nick from the factory and was overjoyed to hear that EMI and A&M loved his voice and would sign the band if they could produce more songs like Girls on Film.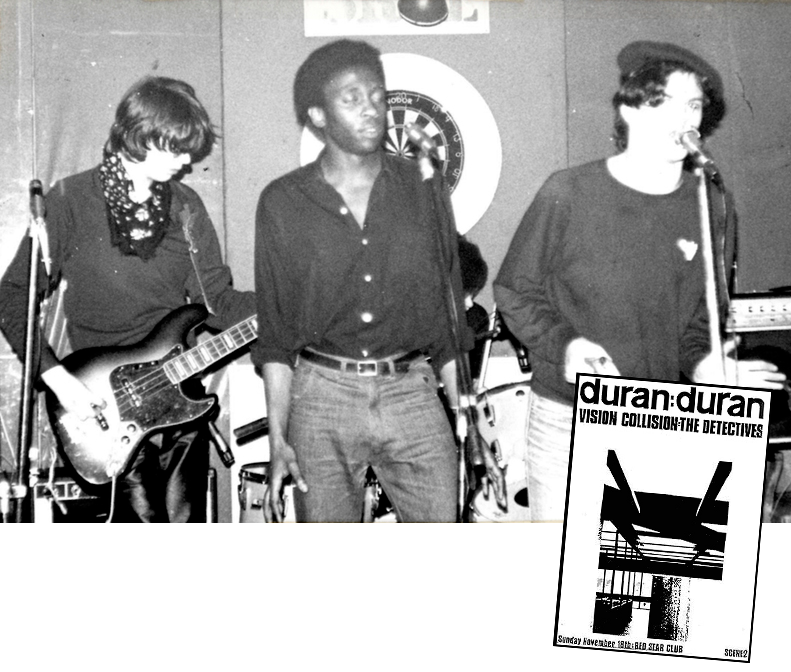 Andrew Wickett, lead vocal for Duran Duran before Simon Le Bon.
T.V. Eye (1977) Jubilee, the start of it all....
Andy Wickett, Eamon Duffy and Dave Kusworth left Moseley Art school in 1976.
They formed the band T.V. Eye and started hanging around the punk scene at Barbarella's, Rebbecca's and the Romulus. Andy, Dave and new guitarist Paul Adams Moved into a house in the industrial part of Digbeth Birmingham on a street called Cheapside.
They cut a single 'Stevie's radio Station' but didn't release it because the drums were too fast. Andy later performed the song with the Durans. The Durans continued to use the song after Andy had left changing the name 'Stevie' to 'Rio'.